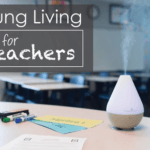 Are you struggling to find the motivation to start your yearly lesson planning or do you feel nervous about returning to school?
Join the Holistic Housewife, a Board Certified Holistic Health Practitioner  to learn how to help boost your motivation, maintain mental focus, and support your body as you begin this new school year! After this fun and informational class we will make a super easy essential oil roller bottle to help boost your immune system this school year.
We will provide all necessary supplies, including reasonably priced beer and wine!
Please reserve ticket space is limited: https://artcellarwellington.com/event/workshop-holistic-housewife-make-take/